The authentic hospitality
Discover the professionalism and hotel hospitality of Hotel La Ruota. Experience the beauty of a stay with attention to every detail, in the heart of the Granda.
We provide our guests with 60 spacious and comfortable rooms, 4 Suites and 2 Superior Rooms equipped with every comfort.
Our facility has large bright halls and reserved rooms for the organization of corporate events with a maximum capacity of 250 people. Our offer is completed by modern audiovisual systems and possibility of coffee break/light lunch service.
We offer the perfect location to celebrate weddings, graduation parties, birthdays and all kinds of private events. Make your big day unforgettable at Hotel La Ruota!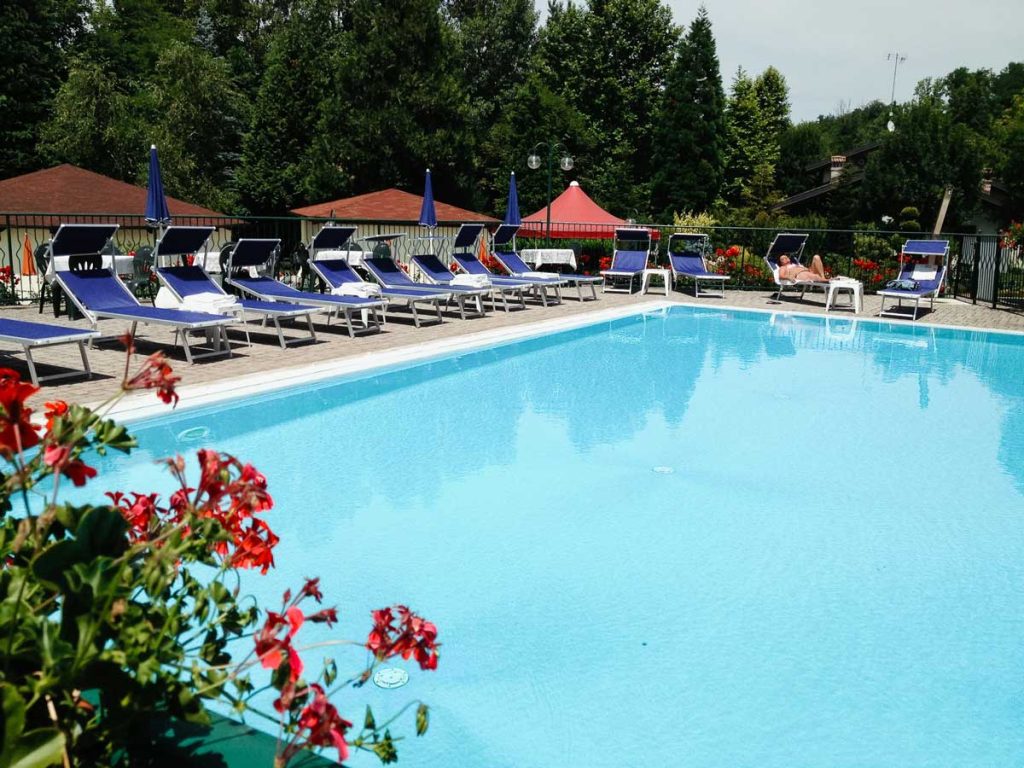 A lush garden frames the hotel's outdoor swimming pool. Here you can give yourself a chromotherapy experience surrounded by greenery, in a quiet and relaxing oasis.
Discover the perfect packages for you, plan your theme party and be intrigued by our offer. Experience the authentic hôtellerie of Hotel La Ruota.
A lifelong hallmark of our experience.
Start each day off right with an American-style breakfast dedicated to hotel guests.
Be amazed by the innovative and gourmet cuisine dedicated to your events.
Tuesday through Sunday, enjoy traditional cuisine and feel pampered by Emilio and Silvana throughout your meal.
Visit the Granda Province
Hotel La Ruota in Pianfei is at the centre of the Granda region. Strategically located in the heart of the Province of Cuneo, it is the ideal place to spend vacations surrounded by nature, within walking distance of the main tourist attractions.
Albergo grande, tranquillo, pulito con ristorante, piscina, garage. Colazione discreta. Personale molto carino e gentile. Bello lo spazio esterno con molto verde e fontane. Ottimo prezzo. Consigliato.

Simone Silvestri


23 May 2023

Si mangia decisamente bene, tutto ottimo, dell'aperitivo al dolce. Da provare

Maria Veri


23 May 2023

Locale accogliente, cibo ottimo e personale gentilissimo, Complimenti!!

Gerardo Miele


23 May 2023

Sono stata ad un matrimonio,bellissimo buffet...ottimo servizio camerieri eccellenti... Giornata top.... Bravi!!!🍤🦐🍾🍷

Elisa Arnaudo


2 May 2023

Siamo stati due notti a Pasqua. Colazione con abbondante buffet e pranzo pasquale di qualità. Ottimo anche il ristorante di fronte di proprietà della struttura. Camera spaziosa, pulita e completa. Personale davvero gentile.

Alvin


30 April 2023

Hotel molto pulito e gradevole. Anche il loro ristorante è molto valido, personale molto gentile e disponibile, inoltre il cibo è ottimo.

chiara amodei


30 April 2023

Bellissimo albergo 4 stelle, personale gentilissimo e disponibile. Però per fare una passeggiata si deve restare all'interno della proprietà dell'albergo altrimenti si deve prendere la macchina per raggiungere il centro del paese.

Marina T


30 April 2023

Siamo stati per una cena in maschera, tutto organizzato in modo eccezionale con ottimo cibo, servizio eccellente e buona compagnia.

Santo Violetti


30 March 2023

Ottima cena, tra tutti abbiamo assaggiato tutto quello che questo ristorante può offrire, dai primi ai secondi, pizza, dolci e bevande...tutto ottimo, tutti i prodotti sono buoni, i prezzi sono al livello del mangiare e del servizio.

Marco Malfatti


30 January 2023

Ho partecipato ad una riunione dell'associazione trasportatori piemontesi ed era compreso l'aperitivo a buffet e la cena. Locale,spazioso con tavoli rotondi per avere dialogo con tutti. Personale premuroso e gentile all'ingresso,servizio ottimo ai tavoli. Cena fino ai primi ottima,con un flan di porri con acciughe spettacolare. Complimenti alla struttura

Vincenzo Pomes


30 December 2022